---
Huge News
Solar Age Is Dawning
www.nlpwessex.org/docs/solardawn.htm
Solar Power Systems Become Cheaper Than Coal
'Solar Energy Update', December 2007
---
"Nanosolar, a heavily financed Silicon Valley start-up whose backers include Google's co-founders, plans to announce Tuesday that it has begun selling its innovative solar panels, which are made using a technique that is being held out as the future of solar power manufacturing.The company, which has raised $150 million and built a 200,000-square-foot factory here, is developing a new manufacturing process that 'prints' photovoltaic material on aluminum backing, a process the company says will reduce the manufacturing cost of the basic photovoltaic module by more than 80 percent..... Nanosolar's founder and chief executive, Martin Roscheisen, claims to be the first solar panel manufacturer to be able to profitably sell solar panels for less than $1 a watt. That is the price at which solar energy becomes less expensive than coal. 'With a $1-per-watt panel,' he said, 'it is possible to build $2-per-watt systems.' According to the Energy Department, building a new coal plant costs about $2.1 a watt, plus the cost of fuel and emissions, he said. The first Nanosolar panels are destined for a one-megawatt solar plant to be installed in Germany on a former landfill owned by a waste management company. The plant, being developed by Beck Energy, is expected to initially supply electrical power for about 400 homes."
Start-Up Sells Solar Panels at Lower-Than-Usual Cost
New York Times, 18 December 2007
Top Innovation Of The Year 2007 By Popular Science Magazine
---
Those who believe that future wars will be fought over global energy supplies and other natural resources include John Reid (former UK Defence Minister), Paddy Ashdown (former High Representative for Bosnia and Herzegovina), Bill Clinton (former US President), and Joe Lieberman (Senator and former Vice Presidential running mate to Al Gore).

Improved global energy conservation will need to play a vital role in trying to pre-empt the occurrence of these harrowing scenarios. But large amounts of energy will still be required as the world population expands and develops.

Finding new sources of energy in this context is an essential part of establishing and maintaining world peace and stability. Reserves of traditional fossil fuels are depleting, and their are even doubts about the adequacy of global uranium supplies to fuel nuclear reactors. By contrast there are other sources of energy which cannot be depleted as long as the sun continues to shine.

Most forms of renewable energy are driven partly or wholly by the sun - wind, wave, hydroelectric, near surface ground source heat, biomass, and even tidal (through gravitational effects, although the influence of the moon is much greater), are all part of the framework of solar energy in one form or another.

All of these have a potentially important role to play in moving humanity towards the onset of a new solar based society. Solar Energy News, however, focuses on press reports related to the development and use of direct solar thermal and solar photovoltaic energy systems.

SOLAR ENERGY NEWS
www.nlpwessex.org/docs/solar.htm

"In this episode, Scientific American editor Mark Fischetti talks about an audacious new plan, featured in the January issue of Scientific American, for turning the US into a solar-powered country."
Here Comes the Sun - A Grand Plan for Solar Energy
Scientific American Podcast, 19 December 2007
NEW SOLAR, BATTERY, AND VEHICLE TECHNOLOGY = NEW CLIMATE CHANGE AND ENERGY CRISIS EXIT STRATEGY
---
Solar Breakthrough - 'Cheaper Than Coal'
An End To Energy Wars And Climate Change?
"Imagine a solar panel without the panel. Just a coating, thin as a layer of paint, that takes light and converts it to electricity. From there, you can picture roof shingles with solar cells built inside and window coatings that seem to suck power from the air. Consider solar-powered buildings stretching not just across sunny Southern California, but through China and India and Kenya as well, because even in those countries, going solar will be cheaper than burning coal. That's the promise of thin-film solar cells: solar power that's ubiquitous because it's cheap. The basic technology has been around for decades, but this year, Silicon Valley–based Nanosolar created the manufacturing technology that could make that promise a reality..... Nanosolar's cells use no silicon, and the company's manufacturing process allows it to create cells that are as efficient as most commercial cells for as little as 30 cents a watt. 'You're talking about printing rolls of the stuff—printing it on the roofs of 18-wheeler trailers, printing it on garages, printing it wherever you want it,' says Dan Kammen, founding director of the Renewable and Appropriate Energy Laboratory at the University of California at Berkeley. 'It really is quite a big deal in terms of altering the way we think about solar and in inherently altering the economics of solar."
The New Dawn Of Solar
Popular Science, Innovation Awards 2007
"Roscheisen said the manufacturing process the company has developed will enable it to eventually deliver solar electricity for less than a dollar per watt, which would be significantly cheaper than fossil fuel sources of power generation."
Nanosolar 'prints' first flexible solar cells
CNET News, 18 December 2007
"Search-engine titan Google Inc., which has built a cash-rich Internet empire by providing easy access to Web content and online advertising, now wants to do the same for renewable energy technologies such as solar and geothermal.The company, whose corporate motto is 'Don't Be Evil,' yesterday announced plans to spend hundreds of millions of dollars on renewable energy projects that generate emission-free electricity more affordably than coal plants. It's calling the project Renewable Energy Cheaper Than Coal, and plans to spend 'tens of millions' in 2008 alone on research and development, beginning with the hiring of scientists and engineers who can lead the effort.... Google founders Larry Page and Sergey Brin have made no secret of their commitment to 'green energy,' having formed a philanthropic arm called Google.org that's dedicated to the cause.... Page and Brin have also made multi-million-dollar investments in clean technology companies, including electric car maker Tesla Motors and thin-film solar company Nanosolar Inc. Page wrote on his blog yesterday that the company's goal under its latest initiative is to see construction of 1,000 megawatts of renewable energy capacity that's competitive today with coal, which supplies 40 per cent of the world's electricity and is a major source of greenhouse gases known to influence climate change. Generation of 1,000 megawatts is roughly what's needed to power a city the size of Ottawa. 'We are optimistic this can be done within years, not decades,' wrote Page, who has a personal interest in power technologies and is a fan of Nikola Tesla, inventor of the modern-day electricity system. 'If we succeed, it would likely provide a path to replacing a substantial portion of the world's electricity needs with renewable energy sources.' Two California companies Google is already helping are eSolar Inc., which designs large-scale solar power plants using the sun's energy to generate electricity-producing steam, and Makani Power Inc., a developer of technology that can capture the wind's energy at high altitudes..... Paul Bradley, managing director of PJB Energy Solutions in Toronto and former vice-president of generation procurement for the Ontario Power Authority, said Google's financial commitment to renewable energy is part of a trend that's seeing large pools of private capital attempting to tackle climate change. 'An entrepreneur or somebody who has built up a lot of wealth, such as a Bill Gates or the founders of Google, if they pool their resources properly, they have more firepower than any government has,' Bradley said."
Google branches into energy
Toronto Star, 28 November 2007
'Revolutionary'
"Solar power would seem to be the ultimate energy source - no pollution, no greenhouse gases, seemingly unlimited. But, although solar cells have their uses, they remain a niche product because solar electricity costs may up to three times more than electricity from coal or other conventional sources. As Art Chimes reports, a new way of making solar panels may be changing that, however. Popular Science magazine is out this month with its annual 'Best of What's New' issue, showcasing 100 of the year's best innovations, from computers to spacecraft to cameras. They chose one as their Innovation of the Year, and it is, potentially, revolutionary. 'This is the innovation that has the potential to really, finally make solar power feasible, make widespread solar power affordable and a real viable option to coal and other hydrocarbon-based fuels,' said executive editor Mike Haney. He's talking about a new way of making thin-film solar cells that can be likened to printing a newspaper. Instead of rolls of paper, though, it uses rolls of thin metal foil, and the ink is a liquid form of the semiconductor material that converts light into electricity. It's all aimed at reducing costs, says Brian Sager, a co-founder of California-based Nanosolar, Inc., which developed the process. 'What Nanosolar has done is develop an aggregate of process innovations that dramatically decrease the cost of using this material, depositing it much more rapidly, much more efficiently, with much better capital efficiency as well, and thereby dropping the cost of the solar panels dramatically,' said Sager. 'We're aiming for grid parity.' Grid parity means consumers would pay about the same for solar power as they do now for coal or nuclear. In the United States, that's about 8 to10 cents per kilowatt hour, or about one-third the current price of electricity from solar cells. As the company name suggests, its product relies on nanotechnology, which for some people might be a source of concern, but Sager says, not in this case. 'There are no nanoparticles in our final device,' he explained. 'So we use the nanoparticles as a way to coat this ink onto the foil, but then when we process it, those particles are attached together in a continuous film, so there's no longer discrete particles in the final device, so we don't have any risk of exposure of nanoparticles.' The solar panel foil can be rolled out as roofing material or put on the sides of buildings in a city. Sager also imagines land just outside urban areas covered with his solar energy-collecting powersheets. 'And the solar panels are interconnected to create a certain amount of output, which could be used to power a city,' he said. 'And this could be done just outside the city so that you minimize the transmission loss from getting that electricity from the [solar] power plant to the end users.' Nanosolar has factories in Germany and a big, new one in California, so economies of scale should make an important difference in the impact of solar power. 'When they get this San Jose plant online, they're going to create more megawatts worth of solar cells in a year than every other solar plant in the U.S. [combined], and that's only one plant,' says Popular Science editor Haney. 'So surely once they get that one going, and, you know, as some of these other companies catch them and develop their own ways of doing it and start cranking it out, I think- I think the leap in scale of solar being used is going to be pretty incredible in the next five to 10 years.'"
New Solar Cell Production System Could Drive Down Costs
Voice of America News, 12 December 2007
An End To Nuclear As Well As Coal?
"NanoSolar, which has raised more than 150 million dollars from investors, claims to have the technology to make solar panels hundreds of times more cheaply and more efficient than anything the world has ever seen. And as it ramps up production of its paradigm-breaking new invention this month at massive plants near San Jose, California and Berlin, Germany, NanoSolar says that its systems will achieve the Holy Grail of green energy: cost parity with the outdated electrical production systems of coal, oil and nuclear. Few other companies have made such claims in the past - and none have delivered. But NanoSolar chief executive R Martin Roscheisen says that his company has ironed out all the kinks in its product and that utility companies from around the world are banging on his doors with massive orders. There's already a three-to-five year back order, even before production begins, the company says. The company's main product is thin film solar panels that are printed with highly efficient semiconductors for converting sunlight into electricity on a massive scale. 'It's a hundred times thinner than existing solar panels and we can deposit the semiconductors 100 times faster,' Roscheisen says. 'It's a combination that drives down costs dramatically.' It's also much faster than constructing a new coal or nuclear- powered station, cutting the lead time from 15 years to less than two. Hydropower doesn't even enter the equation anymore since all the world's major rivers are already maxed out, Roscheisen says. 'Solar is more rapidly deployable than any other source,' he says. 'For the first time major utilities are waking up to the huge opportunities in solar.'"
Solar start-up aims to clean up on energy
Deutsche Presse Agentur, 20 December 2007
Does This Herald The End Of The Era Of Oil And Gas Wars?
Will This Mean We Can Finally Get Out Of Muslim Countries And Leave Them In Peace?
Does This Mean An End To Dick Cheney's 'War Without End' And 'The Clash Of Civilisations'?
Does It Mean An End To Biofuels?
"In a report published in by the United States National Academy of Sciences journal today, David Zhang, of Hong Kong University, has analysed a half millennium's worth of human conflict — more than 8,000 wars.... 'We are on alert, because this gives us the indication that resource shortage is the main cause of war.'"
Water shortages are likely to be trigger for wars, says UN chief Ban Ki Moon
London Times, 4 December 2007
Or Will Vested Interests In The Existing Defence And Energy Sectors Try And Crush This Transformational Technology
Before It Can Get A Hold?
"Nanosolar Inc., a global leader in solar power innovation, and Beck Energy, a leading integrator of large-scale solar power systems, today announced that they have won a highly competitive public selection process for a solar power plant located on a former landfill owned by one of the largest waste management companies in Eastern Germany. The project will employ the Nanosolar Utility Panel™ in combination with systems technology and services from Beck Energy. The initial size of the plant is 1MW, an amount sufficient to power approximately 400 homes. The Nanosolar Utility Panel™ is Nanosolar's first product as part of its award-winning PowerSheet™ product line – recently named the Top Innovation of the Year 2007 by Popular Science Magazine – and the company's solution for building solar power plants on free fields at the outskirts of towns and cities. 'This is the first time that a solar electricity cell and panel has been designed entirely and specifically for utility-scale power generation,' said Martin Roscheisen, CEO of Nanosolar. 'It will set the standard for green power generation at utility scale.' 'The unique design and system economics of the Nanosolar Utility Panel™ are instrumental in enabling us to drive the cost efficiency of solar electricity systems,' said Bernhard Beck, CEO of Beck Energy GmbH. 'Every town and city should have its own solar farm in the future.' Solar-electric power plants have advantages over concentrating solar-thermal plants as well as coal-fired and other conventional plants in that they can be deployed in a much broader range of possible field locations, a much broader range of possible sizes, and with much shorter project planning and implementation cycles. They now can be very economical as well, giving municipal power producers and utilities a new option for generating and delivering cost-efficient green power."
Nanosolar Shipping for Megawatt Municipal Power Plant
Nanosolar, 18 December 2007
Planned Pentagon Spending For 2008 Is $623 Billion - A Military Budget Bigger Than The Rest Of The World Combined
But Alternative Energy Is Where Most Of That Wasted US Taxpayers' Money ($2.3 Trillion, Yes Trillion, Is Unaccounted For) Should Really Be Going
Unfortunately The Minds Of America's Political Leaders Are As Small As The Pentagon's Budget Is Large
So This Challenge Is Now Mainly Down To The Rest Of Us
One Day Before 9/11 Attention Fell On The World's Most Wasteful (Criminal) Enterprise
And Then Was 'Forgotten'
"On Sept. 10 [2001], Secretary of Defense Donald Rumsfeld declared war. Not on foreign terrorists, 'the adversary's closer to home. It's the Pentagon bureaucracy,' he said. He said money wasted by the military poses a serious threat..... Rumsfeld promised change but the next day – Sept. 11-- the world changed and in the rush to fund the war on terrorism, the war on waste seems to have been forgotten. 'According to some estimates we cannot track $2.3 trillion in transactions,' Rumsfeld admitted. $2.3 trillion — that's $8,000 for every man, woman and child in America."
The War On Waste
CBS News, 29 January 2002
Meanwhile Whether You're Sitting In Washington, Tehran, Or Tel Aviv
The World Needs Neither Nuclear Power Nor Nuclear Weapons
---
The Campaign To
Replace The Internal Combustion Engine
Join The Campaign To Replace The Internal Combustion Engine
The Grossly Inefficient And Environmentally Damaging Force Behind The World's Most Violent Resource Wars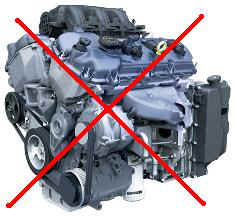 "More than half the energy we generate every day is wasted. In an average car, about 20 per cent of every unit of petrol goes into moving a car forward, the rest is lost as heat."
Jeroen van der Veer, Chief executive of Royal Dutch Shell
High hopes and hard truths dictate future
London Times, 25 June 2007

"A week ago, I went for a spin in the fastest, most fun car I've ever ridden in—and that includes the Aston Martin I tried to buy once. I was so excited, in fact, that I decided to take a few days to calm down before writing about it. Well, my waiting period is over, I'm thinking rationally, and I'm still unbelievably stoked about the Tesla.... I've always marveled at how long the antique internal-combustion engine has survived. By 2006 standards, my car's power plant is a noisy, heat-blasting, poison-spewing monster with way too many moving parts. One spin in a Tesla made me realize that the gas engine might finally be on its last legs—and not because

electric cars will help wean us from Saudi oil and save us from global warming. Rather, the Tesla Roadster is a rolling demo that proves electric cars now outperform their gas-guzzling counterparts in comfort, convenience, and, best of all, speed.... Eberhard got behind the wheel of a Tesla prototype and put the pedal to the metal. I was flabbergasted. In the passenger seat, I was wrapped in an all-powerful force that launched me forward with a perfectly even push.... Eberhard says traditional carmakers have failed with electrics for two reasons. First, they market them as 'penalty boxes' for environmental do-gooders and gas-mileage-obsessed penny-pinchers. Second, they just don't understand batteries. The Tesla's giant lithium-ion battery pack gives it the power to hit 60 in four seconds, to run 250 miles without a recharge, and to charge rapidly at its home charging base (a one-hour charge will take you 80 miles; it takes a 3.5-hour charge to go 250 miles). You can even plug into a wall socket at a roadside stop in a pinch. That makes the Roadster a viable commuter car and weekend day-tripper. The company claims energy costs as low as a penny per mile."
It's Electric! The Tesla Roadster—a hotshot sports car that runs on batteries
Slate, 27 November 2006

"Imagine some day driving in your hybrid car with a solar panel painted on the roof, which is producing electricity to drive the engine. The opportunities are endless."
Lead researcher Somenath Mitra, New Jersey Institute of Technology
Solar panels too pricey? Try printing them out
MSNBC, 23 July 2007
---
More Solar Energy
News Updates
SOLAR ENERGY NEWS UPDATES
"Soaring oil prices approaching $100 a barrel are fueling a sleek new kind of solar technology that could some day set skyscrapers and high-rise apartment windows quietly buzzing with renewable energy production. The emerging technology uses thin films mounted on the glass windows of skyscrapers and other surfaces to harness the sun's power. It's more aesthetic and cheaper than the bulkier conventional solar cells made from polycrystalline silicon whose supplies have tightened and prices have risen as solar energy has taken off. Current thin-film surfaces generate less power per area than traditional polysilicon modules, but they also use less polysilicon then conventional cells making them attractive to some of the world's top solar panel makers.... Thin-film is cheaper to produce, more durable and more aesthetic than bulky solar panels, which are often accused of being eyesores. The transparent sheets can serve as facades for skyscrapers and housing roofs where they absorb the sun's rays and turn it into energy. 'One big advantage of the thin film products is that they don't have to use too many raw materials and they are much cheaper than silicon solar wafers,' said Robin Cheng, an analyst at UBS Securities. The potential has attracted major solar energy players such as German-based Q-Cells AG as well as the likes of industrial giants like Applied Materials Inc, the world's biggest maker of semiconductor manufacturing equipment, which see big growth potential in thin-film machinery....Thin film's advantage comes in its low price in terms of production costs as well as its ability to serve as attractive transparent panels on large buildings."
Thin-film solar sheets seek time in the sun
Reuters, 6 December 2007
"...more than a decade of pioneering work has resulted in an organic solar cell that doesn't use expensive silicon. Conventional photovoltaic (PV) solar cells are made from a thin slice (around 200 microns) of silicon that is doped with chemicals to form a bilayer structure called a p-n junction. When photons of light are absorbed by the silicon, electrons flow, creating a small electric current. An organic solar cell takes a similar approach but uses an ultra-thin (100 nanometre) film mixture of two semiconducting polymers instead. The prototype organic solar cell - the size of Greenham's hand - produces enough power to run an electronic calculator. The idea of a purple-coloured polymer as a conductor seems odd when plastics are normally considered excellent insulators. But mounted on glass, this solar cell uses the same class of materials as the polymer light-emitting diodes: long-chain plastics with double bonds which permit electron flow.... Greenham is now working on a £5m project funded by the Carbon Trust to deliver solar energy at radically lower cost. Led by the University of Cambridge's Cavendish Laboratory with The Technology Partnership, there's a huge target: deploy more than one gigawatt of organic PV by 2017 to make carbon dioxide savings of more than 1m tonnes per year.....If all goes well, O'Brien reckons the new solar cell technology may be one hundredth of the cost of a silicon cell when in mass production - promising a solar energy revolution."
How solar power could become organic - and cheap
Guardian, 29 November 2007
"Renewable energy company Solar Systems says it has developed a way of converting solar power into electricity around the clock, even when the sun is not shining. Managing director Dave Holland told BusinessDaily that although the process, which produces hydrogen and stores it, is still years from connecting to the electricity grid, it has been demonstrated to produce baseload power. He said less than 1 per cent of the planet's arid lands could produce the entire world's energy needs using the technology, without harmful emissions, concern about finite fuel supply, or toxic waste. The company already operates four small commercial solar power stations in central Australia and is in advanced talks to export its technology through the Asia Pacific Partnership (AP6). Its innovative solar concentrating technology is much further down the cost curve than conventional photovoltaics.... It is envisaged the hydrogen technology will be added to Solar Systems' proposed $420 million solar power station near Mildura, which when it is complete in 2013 will have the capacity to supply electricity to 45,000 homes. Solar Systems began to develop research by its technical director John Lasich 17 years ago and employs 90 people. Recently the company said it would spend $22 million to establish a manufacturing plant in Melbourne employing 150 people to make high efficiency photovoltaic components for domestic and overseas markets. The components produce up to 1500 times more electricity per square metre than traditional photovoltaic cells. The established outback generators use mirrors on giant dishes to concentrate solar energy and focus it on to photovoltaic receivers connected to the dish. The next generation technology being developed at Bridgewater takes the mirrors and lines them up in dozens of flat rows, rather than in dishes. Known as heliostats, the mirrors track the sun and focus its energy on to a receiver mounted on a tall pole. The technology that will continue to produce electricity when the sun goes down works by using the concentrated solar energy to separate water into hydrogen and oxygen through a spectrum splitter and then an electrolyser. The hydrogen is then stored in large onsite tanks, ready to be used by fuel cells for electricity generation at night."
Solar Systems making the sun work after dark
Herald Sun (Australia), 22 November 2007
"In the local airport parking lot, Steve Titus clicks shut the lightweight fiberglass door of his fireman-yellow 'Solar Bug.'.... On display at a recent alternative-car expo here, this is Titus's second and latest rendering of a solar-powered car concept. It gets up to a fourth of its 60-mile capacity from 200 watts of roof-mounted solar panels. Titus is among those entrepreneurs trying to create and market an affordable, renewable-energy vehicle – a step beyond gas-electric hybrids."
Could the Solar Bug bring the sun to the car market?
Christian Science Monitor, 15 November 2007
"Lockheed Martin Corp. and Starwood Energy Group Global LLC said Friday they are teaming up to pursue building utility-scale solar generation projects in North America. Lockheed Martin Maritime Systems and Sensors, which is based in Moorestown, N.J., will handle engineering, procurement, manufacturing and systems integration. Starwood Energy Group will be in charge of arranging long-term power purchase agreements, site selection, getting permits and providing construction and permanent debt and equity financing. The companies estimate that up to 10,000 megawatts of solar power generating capacity could come on line in the next 10 years. At an expected cost of $3 per watt of generating capacity, that would put the market size at $30 billion dollars. Lockheed Martin (NYSE:LMT) is a defense contractor based in Bethesda, Md."
Lockheed Martin and Starwood Energy in solar generation partnership
Philadelphia Business Journal, 9 November 2007
"A prototype of the 'Solar Impulse' round-the-world solar plane should make its first piloted flight in autumn 2008, the Swiss project leaders said Monday. The reduced-size model of the aircraft -- which will have a wingspan of 61 metres (201 feet), the equivalent of an Airbus A340 airliner -- is currently being built in northern Switzerland to test the cutting-edge technology involved in its construction. If successful, the dainty 1.5-tonne plane could make a pioneering 36-hour flight through the night in 2009, piloted by round-the-world ballooning pioneer Bertrand Piccard.... The project's goals include a transatlantic crossing in 2011 before what would be a historic, fuel-less circumnavigation of the globe....The completed craft is expected to have 250 square metres (2,690 square feet) of solar panels stretched across wings the width of the world's biggest airliner, a 580-tonne Airbus A380, but weigh just two tonnes."
Groundbreaking solar plane to test flight in 2008
AFP, 5 November 2007
"Berkeley is set to become the first city in the nation to help thousands of its residents generate solar power without having to put money up front - attempting to surmount one of the biggest hurdles for people who don't have enough cash to go green. The City Council will vote Nov. 6 on a plan for the city to finance the cost of solar panels for property owners who agree to pay it back with a 20-year assessment on their property. Over two decades, the taxes would be the same or less than what property owners would save on their electric bills, officials say. 'This plan could be our most important contribution to fighting global warming,' Mayor Tom Bates said Thursday. 'We've already seen interest from all over the U.S. People really think this plan can go.' The idea is sparking interest from city and state leaders who are mindful of California's goals to reduce greenhouse gas emissions by 25 percent by 2020. Officials in San Francisco, Santa Cruz, Santa Monica and several state agencies have contacted Berkeley about the details of its plan. 'If this works, we'd want to look at this for other cities statewide,' said Ken Alex, California deputy attorney general. 'We think it's a very creative way to eliminate the barriers to getting solar panels, and it's fantastic that Berkeley's going ahead with this.'"
Berkeley going solar - city pays up front, recoups over 20 years
San Francisco Chronicle, 26 October 2007
"Solar power could be the world's number one electricity source by the end of the century, but until now its role has been negligible as producers wait for price parity with fossil fuels, industry leaders say. Once the choice only of idealists who put the environment before economics, production of solar panels will double both next year and in 2009, according to U.S. investment bank Jefferies Group Inc, driven by government support especially in Germany and Japan. Similar support in Spain, Italy and Greece is now driving growth in southern Europe as governments turn to the sun as a weapon both against climate change and energy dependence.... The crux is how fast the industry cuts costs and how fast power prices rise. European power prices neared all-time highs this week, driven by record oil prices. The industry could halve costs and achieve parity in significant markets including the United States, Japan and parts of southern Europe by 2012, said Erik Thorsen, chief executive of the world's biggest solar power company Renewable Energy Corp."
Solar power edges towards boom time
Reuters, 19 October 2007
"John O'Donnell started thinking about saving the world 30 years ago....The idea is to slow global warming and cure the planet's energy woes, not with plasma or windmills or clean' coal smoke, but with mirrors. Miles and miles of mirrors, to be exact, focusing the rays of the sun onto pipes to heat water to run hulking steam turbines. This so-called solar thermal approach would mean no emissions that cause global warming. No worries about radioactive waste. No need for coal power, which faces increasingly hostile scrutiny. Not even much need for oil, if plug-in hybrid cars like the Chevrolet Volt start to replace gasoline burners. 'I want people to have it in their heads that there is a solution--and it doesn't even mean raising their electric bills,' he says. A fantasy? Maybe. The big question is not whether solar thermal plants work, but how much the electricity will cost. Right now, the price for existing mirror and steam turbine systems is about half that of the more familiar photovoltaic (PV) panels, which use sheets of semiconductors to convert sunlight to electricity. But that's still nearly twice as much as a new coal plant. O'Donnell believes the technology he plucked from obscurity in Australia will be cheaper - although he has to prove it.... Basic physics shows enough sunlight falls on the deserts of the Southwest to provide all of American's electricity many times over - given enough mirrors. But O'Donnell is already thinking about the next step - going global. He figures Europe could get all of its electricity from Big Solar plants in Morocco. He even has a sneaky China plan. 'Frankly, the original goal for the company was to get an arms race started, where we move ahead in the U.S. and then China decides to get in on the act,' he says."
Solar's Day In The Sun
Businessweek, 15 October 2007
"Santa Clara, Calif.-based Innovalight says it has developed a somewhat contradictory-sounding process for creating crystalline silicon solar cells with liquid. If it works in mass production, it could slash the cost of making these solar cells by half or more, the company claims. Innovalight essentially creates silicon nanoparticles, inserts them into a solvent, and pours the solvent on a substrate. The solvent is then extracted. What is left can sort of be analogized to a snowflake or a large sugar cube: a highly organized structure made up of tiny parts. 'We use this technique to make something that isn't much different from (traditional) crystalline silicon solar panels, except we get there cheaper,' CEO Conrad Burke said. 'They (the solar cells) end up in a pretty structured form.' The key is that the resulting solar cell has efficiencies--or the amount of sunlight the solar cell can turn into electricity--that are closer to crystalline silicon solar cells than thin-film alternatives such as amorphous silicon or copper indium gallium selenide or CIGS."
Pour yourself a silicon solar panel
CNET News, 11 October 2007
"The next solar panel could be a window. Konarka Technologies and Air Products have received a grant from the National Institute of Standards and Technology (NIST) to develop a transparent, flexible solar panel that could be placed on a piece of glass or integrated into a window. Konarka specializes in organic photovoltaics. These are complex molecules that can harvest portions of the infrared and visible light spectrum and turn the energy into sunlight. Organic photovoltaic panels don't last as long as silicon panels and can't aren't as efficient as silicon or other types of panels. But they can be transparent and flexible, allowing them to be placed unobtrusively on a lot of surfaces."
Will windows work as solar panels?
CNET News, 9 October 2007
"Power electronics company Hykon India Pvt. Ltd. has introduced a window collector solar water heater, claimed to be the first in the country. Addressing a press conference here on Wednesday, the company's CMD, Christo George, said the window solar heaters were designed for installation on balconies and windows of flats, apartments and individual villas where conventional roof-top water heaters do not fit in."
Window solar water heaters now in India
Sify (India), 4 October
"More utilities are looking to build large solar power (OTCBB:SOPW) plants that can put out as much electricity as coal- or gas-fired plants, but run much cleaner. 'We're at the start of something,' said Julia Judd, executive director at the Solar Electric Power Association. Most of the buzz around solar energy has focused on smaller-scale projects, such as solar panels on rooftops. Several solar companies with highflying stocks, such as SunPower SPWR and JA Solar JASO, are in this field. But interest is building for large, utility-scale solar projects. Such plants offer utilities a way to meet regulatory demands for more renewable energy. Governments worldwide are providing financial incentives for such projects....Take Pacific Gas & Electric. Late last month it said it would double its commitments to buy solar thermal electric power. It now plans to add 1,000 megawatts of new supply during the next five years. By comparison, it has less than 200 megawatts of PV projects planned, Wachs says. In California, three of the state's largest utilities have announced a handful of solar thermal projects that combined will almost meet state requirements for 3,000 megawatts (3 gigawatts) of renewable energy by 2016, Wachs says."
Big Utilities Interested In Big Solar
Investor's Business Daily, 1 October 2007
"The latest project comes from an Israeli who wants to use Israel's 'gift of enterprising' to help humanity wean off of oil. Shai Agassi, former executive at German software enterprise company SAP AG, is leading a new team of minds into not-so-charted territory. Agassi completed military service in Israel as a programmer for the IDF, and then earned his bachelors degree in computer science from The Technion in Haifa. Venturing into the business world, he later sold the most successful of his software startups for over $400 million to SAP, where he continued working until March 2007. What he was up to next was first reported in August by Reuters - holding company Israel Corporation agreed to invest $100 million in Agassi's new electric vehicle venture, pending due diligence, with several other investors; the first round funding is $200 million, bringing the total value of the venture to $300 million. The company is stealthily named BetterPLC, a reference to an automated method of manufacturing. The electric car is a major component of the energy paradigm shift: one where the world relies mainly on renewable sources of energy, thereby reducing the human effect of global warming, shifting the currency balance away from Muslim terrorists, and declawing the menace of peak oil. 'Our goal is to get to 100,000 cars on the road in 2010,' said Agassi. He believes that since Israel has an 89% tax on vehicles, and a 100% tax on fuel, if there were zero emissions and zero fuel, there would be zero taxes on cars. 'You tell an Israeli that Israel will be the first country to eliminate the use of oil, and they sign up,' Shai said in a speech given at Stanford University. But he realizes that the electric car won't stop in Israel, 'If we can do it Israel, and it works, we can create a repeatable model that maybe then works in London... and then we can hopefully do it 50 times in China."
Riding an Israeli electric car to peace
Israel21C, 30 September 2007
"Power generation from low-carbon energy sources like wind, solar and nuclear should soon become competitive with electricity generated by coal, the cheapest of fossil fuels, the chief executive of FPL Group Inc. said Wednesday. FPL said on Wednesday it will spend US $1.5 billion aimed at building solar thermal energy in Florida, California or other states. It is part of a larger US $2.4 billion program aimed at cutting emissions of greenhouse gas carbon dioxide, including a more efficient power network. The company is already the largest US wind power producer.....Hay said FPL will build at least 300 megawatts of solar thermal in Florida, which will help the state reach new goals on renewables outlined by Republican Gov. Charlie Crist. Unlike photovoltaic rooftop solar energy that converts sunlight into power, solar thermal generates electricity by converting solar energy to heat to drive a thermal power plant. The other 200 MW will be built in California or other states....FPL obtains most of its power from other nonrenewable sources including natural gas. The company has a peak power generation of about 22,000 MW and that is growing at about 500 to 600 MW a year. While the solar commitment is small compared with its overall generation portfolio, Hay said it was significant enough to make changes in the industry. 'Only through companies like ours making commitments of this size are we really going to drive the cost of the technology down.' The solar thermal project in Florida, which will start as a 10 MW pilot project at one of its power plants in the state, will eventually grow to become the largest solar plant in the state, the fourth most populous in the country. And he expects to make the company a top US solar producer."
FPL Sees Renewables Soon Competitive With Coal
Reuters, 27 September 2007
"Nanotechnology is important across a broad number of areas; in fact, 'Nanotechnology' is one of six Advanced Technology (AT) programs we have at GE. We're particularly interested in how nanotechnologies can improve our energy and healthcare businesses.... At Global Research, we have a nano team that numbers more than 70 scientists, not counting the support staff. My nano PV [photo voltaic] team is roughly 5-6 people plus support staff. In solar cells, we are working across the board with a number of nanotechnology approaches to improve efficiencies and lower production costs for solar cells. There are 3 generations of solar cells.

Generation 1 is today, and that is bulk silicon, either single crystalline and polycrystalline silicon. That's about 95% of the solar silicon market today.
Generation 2, which is where people are going, is thin-film. In recent years, it has been about 5% of the market but is attracting a lot of attention in the industry and is expected to grow in market share in the coming years. Generation 2 produces solar cells at lower cost in dollars per Watt, but to date they also have lower module efficiency, typically less than 10% with a few exceptions up to about 12%. Laboratory cells as high as approximately 19.5% have been demonstrated however. With technologies such as thin-film, there are efforts to improve those module efficiencies.
Then, we come to Generation 3 solar cells, where you can have both low-cost and high-efficiency – greater than 20% efficiencies with costs similar to Generation 2. These typically take advantage of new energy conversion mechanisms. The exact Generation 3 technologies to emerge are yet to be determined.

Nanotechnology is currently most relevant to Generation 3 cells, though it may also have an impact on Generation 1 and 2 devices. In recent years the [silicon] supply was artificially constrained. In fact, silicon is the second most abundant element in the earth's crust. So, the so-called 'silicon shortage' over the last few years was mostly due to the fact that [solar companies] relied on recycled silicon from electronics companies. But, now we see people adding new capacity for silicon made specifically for the solar industry, because the required purity is not as high as for the electronics industry. Nanotechnology does not seem to offer an immediate answer to the shortage since conventional approaches are being used. There are 4 different classes of nano-structures the community is applying to photovoltaics.... First you need to capture the light, and that's critical to transfer the light into the structure. And, then you have to convert that into electron-hole pairs to create the electricity. That conversion is where nanotechnologies offer various improvements. And, as I mentioned, we are also looking at optical properties of nanowires, and how to apply what we learned there.... Overall, the field of improving solar technologies is still in the research phase in nano-related areas, and so we are still developing technologies and designs, but moving forward with nano-manufacturing will be a key aspect to making solar at much lower cost.... GE is involved with the Department of Energy's Solar America Initiative, which is looking at 3 different solar cell approaches – high-efficiency silicon-based solar cells, molded silicon wafer cells, and flexible thin-film cells. These are all geared toward lowering the cost and improving efficiencies of solar cells. We are collaborating with several universities and small companies in this program. The research under [SAI] is not directly nano-focused, but we're certainly using what we learn under SAI for our nano research programs. SAI is about applying innovative concepts for mass production of Generation 1 and 2 technologies.... There is a lot of promise. A lot of interesting work is going on out there, and it's getting more interesting all the time."
GE's Loucas Tsakalakos, a project leader in GE's Nanotechnology Program
GE Looks at Nano to Power Next-Gen Solar In Historic R&D Labs of Thomas Edison
Nano World News, 24 September 2007

"Solar-powered lights have improved as the technology they use has advanced -- today's models give off more light than their ancestors did. Plus, they don't go dark when the electrical lines go down. Solar-powered lights have improved as the technology they use has advanced -- today's models give off more light than their ancestors did. Plus, they don't go dark when the electrical lines go down....The cheapest solar yard lights are $10 to $20 per lamp, and the better models run higher. That's because solar cells are still expensive to produce -- they're manufactured from silicon crystals in clean-room conditions -- and NiCd and NiMH batteries also are expensive. If you have a long driveway or garden path that will need a couple of dozen lamps, going solar will be pricey upfront. But once the lights are installed, they'll cost nothing to operate."
Solar-Powered Lights Keep Getting Better
Philadelphia Inquirer, 8 September 2007
"Solar energy specialists are forecasting a bright future by focusing on technology that uses less silicon as they move toward cost-per-kilowatt hour parity with traditional power generating firms.... Two types of cutting-edge solar technology are taking center stage as the industry moves beyond the traditional crystalline silicon solar cells popularized in the 1960s and 70s: thin film solar, which contains lower amounts of expensive silicon, as well as solar concentrators, which use an array of lenses or mirrors to magnify the sun's power to boost electrical output and efficiency."
Solar energy hopes to shine with less silicon
MarketWatch, 6 September 2007
"Millions of inventions pass quietly through the U.S. patent office each year. Patent No. 7,033,406 did, too, until energy insiders spotted six words in the filing that sounded like a death knell for the internal combustion engine. An Austin-based startup called EEStor promised 'technologies for replacement of electrochemical batteries,' meaning a motorist could plug in a car for five minutes and drive 500 miles roundtrip between Dallas and Houston without gasoline....Clifford's company bought rights to EEStor's technology in August 2005 and expects EEStor to start shipping the battery replacement later this year for use in ZENN Motor's short-range, low-speed vehicles. The technology also could help invigorate the renewable-energy sector by providing efficient, lightning-fast storage for solar power, or, on a small scale, a flash-charge for cell phones and laptops.... EEStor's secret ingredient is a material sandwiched between thousands of wafer-thin metal sheets, like a series of foil-and-paper gum wrappers stacked on top of each other. Charged particles stick to the metal sheets and move quickly across EEStor's proprietary material. The result is an ultracapacitor, a battery-like device that stores and releases energy quickly. Batteries rely on chemical reactions to store energy but can take hours to charge and release energy. The simplest capacitors found in computers and radios hold less energy but can charge or discharge instantly. Ultracapacitors take the best of both, stacking capacitors to increase capacity while maintaining the speed of simple capacitors."
Texas Startup Says It Has Batteries Beat
Associated Press, 4 September 2007
"Solar energy in Korea is mostly used to heat single homes, but now the nation has its first regional solar heating system. On Friday, the Korea Institute of Energy Research and the Korea District Heating Corp. will hold an opening ceremony for a homemade regional solar heating system at the corporation's office in Bundang, Seongnam city in Gyeonggi Province. The system includes the largest solar panel in the country, measuring 1,069 sq. m. The panel will reheat water from an existing regional heating system to 90 degrees Celcius and reintroduce it to the system. According to the results of a test run, the solar system will be able to provide heat for 40 to 50 households. It is expected to save W30 million (US$1=W940) and 82 tons of oil per year while reducing annual carbon dioxide emissions by 138 tons."
Korea Builds Regional Solar Heating System
Chosun Ilbo (South Korea), 31 August 2007
"With an aim to supply power to every nook and corner of the country, the government is contemplating to provide solar energy to 25,000 unelectrified villages by 2012. 'There are 25,000 villages in the country where due to technical reasons regular electricity could not be provided. So, we are planning to connect them with solar and bio-energy,' Union Minister for New and Renewable Energy Vilas Muttemwar said addressing a function here. Acknowledging that 56 per cent villages have no power connection, he said though the country needed 3 lakh MW power, the present production is just 1.35 lakh MW. Muttemwar said renewable energy was the only solution in the future to overcome the energy crisis in the country as excessive use of fossil fuels were creating environmental problem in the form of global warming and climate change. 'India is blessed with plenty of renewable energy sources such as solar, bio-energy, wind and hydel energy. With such a vast pool of renewable resources available, the Ministry is striving to provide energy in every village and lighting in every house,' he said. In her speech, Delhi Chief Minister Sheila Dikshit highlighted the steps taken by her government to promote solar energy in the capital city."
Solar energy to 25,000 villages by 2012: Muttemwar
Economic Times (India), 22 August 2007
"Placing a film of silicon nanoparticles onto a silicon solar cell can boost power, reduce heat and prolong the cell's life, researchers now report. 'Integrating a high-quality film of silicon nanoparticles 1 nanometer in size directly onto silicon solar cells improves power performance by 60 percent in the ultraviolet range of the spectrum,' said Munir Nayfeh, a physicist at the University of Illinois and corresponding author of a paper accepted for publication in Applied Physics Letters. The process of coating solar cells with silicon nanoparticles could be easily incorporated into the manufacturing process with little additional cost, Nayfeh said."
Silicon Nanoparticles Enhance Performance Of Solar Cells
Science Daily, 20 August 2007
"Amid a journey around the world with a solar energy vehicle, Switzerland's Louis Palmer arrived in Beirut to promote clean sources of energy. 'For the first time in history, we are driving a car, powered by solar energy, around the whole world, Palmer told The Daily Star, near his car parked on Fouad Chehab street.... So far, Parmer has crossed the Czech Republic, Austria, Slovakia, Hungary, Romania, Serbia, Turkey, Syria, before coming to Lebanon. He will later continue on to Jordan. 'The journey will last around 15 months with a goal to cover at least 50,000 kilometers. I will visit 50 countries and five continents,' Palmer said. Bertrand Picard, who intends to fly around the world in his solar plane 'Solar Impulse' in 2011, was the first passenger on board, accompanying Palmer on the first stage of his journey. The "solar taxi" consists of a solar vehicle and a trailer with solar cells. The car was dubbed 'Solar' because it is powered 100 percent from solar energy in its journey around the world. The 'solar taxi' consists of a solar vehicle and a trailer with solar cells. The car was dubbed 'Solar' because it is powered 100 percent from solar energy in its journey around the world."
Solar car makes stop in Beirut on world tour
Daily Star (Lebanon), 14 August 2007
"For many years, engineers have attempted to find ways to produce solar-powered electricity which is competitive with other methods. The most common solar-electric technique involves use of 'photovoltaic cells,' which convert sunlight directly into electricity. Unfortunately, these cells remain very expensive, despite many decades of research and testing. Until the costs of solar electricity at least approach those of conventional methods, it is difficult to envision large-scale adoption. Now the exciting part: an Israeli scientist has developed a methodology that may make solar power viable and competitive. According to Prof. David Feiman , director of the National Center for Solar Energy near Sde Boker, Israel, 'After 30 years of research on solar energy, my life's work of experiments in how to produce electricity from the sun, I can say this year that I know how to manufacture solar energy that will compete with conventional energy.' Feiman's technique uses an inexpensive parabola-shaped glass plate to focus (and concentrate) energy, and its production per unit area is 1,500 times higher than typical solar collectors today. The National Center for Solar Energy is now collaborating with an Israeli start-up company, Zenith Solar, to create a home system of solar cells based on this technology within about a year. And the Center has licensed its technology to Sollel, another Israeli company, which has signed a contract with the U.S. company Pacific Gas & Electric to build the largest solar power station in the world, in the Mojave desert in California, which will have about 7,000 such panels. It is due to go into service in about four years, providing 553 megawatts of electricity."
A breakthrough on solar power
Corvallis Gazette-Times, 11 August 2007
---
---