10 February 2008
(with later updates)

---
"NASA will beam The Beatles' song, 'Across the Universe,' into deep space Monday in an unprecedented long distance dedication by the U.S. agency. NASA's Deep Space Network will transmit the song at 7:00 p.m. EST (0000 Feb. 5 GMT) on Feb. 4 in honor of several cosmic-themed anniversaries.... The transmission is aimed at the North Star, Polaris, 431 light-years away from Earth, travelling at a speed of 186,000 miles per second (300,000 kps). 'Across the Universe,' though credited to 'Lennon/McCartney,' was principally written by Beatle John Lennon, and the lyrics speak of 'limitless undying love which/shines around me like a million suns.'"
NASA Takes The Beatles 'Across the Universe' Literally
Space.com, 1 February 2008
"In one of those too-wierd-for-fiction coincidences, Maharishi Mahesh Yogi, the guru who famously introduced the Beatles and the Western world to transcendental meditation, and thus indirectly inspired the mantra-refrain of the song 'Across the Universe,' which NASA beamed out into space on Monday [Tuesday GMT and Central European Time], died on Tuesday. He was 91 and had been living in a small town in Holland."
NASA Says, 'Hello, Universe. Meet the Beatles.'
'The Lede', New York Times Online, Update 5 February 2008
"The music will be digitalised and beamed through NASA's deep-space communications network on a 431-light-year journey to the North Star, Polaris, where it is scheduled to arrive in 2439. The song has an Indian connection since it was created at the time the Beatles were learning Transcendental Meditation from Maharishi Mahesh Yogi. Which explains the salutation Jai Guru Dev, Om in the chorus of the song."
NASA to beam a beatles number
Economic Times (India), 4 February 2008
"Call it cosmic coincidence. Close on the heels of NASA's announcement that the Beatles' song Across the Universe would be transmitted to the distant Polaris star system in the hope of making contact with intelligent, extraterrestrial life, came the news that the Indian mystic who inspired the Beatles to write the song had passed away ......Though his association with George Harrison, in particular, made him famous, the Maharishi's contribution in popularising Indian spiritualism across the world cannot be overstated. His theory of transcendental meditation has proved to be a treasure-trove of tips for management courses..... He moved into what he called consciousness-based education and set up several colleges and universities. Since TM became popular, there has been no shortage of scientists to study its techniques. Many of them have found that meditation does promote mental and physical well-being, and especially aids in reducing stress. He was both a businessman and a guru, a spiritual man who sought a world stage from where to advance the joys of inner happiness. As the refrain from Across the Universe went, Jai Guru Deva, here and perhaps one day in Polaris."
BRIEF CASE: Jai Guru Deva
TIMES OF INDIA, 9 February 2008
---
NASA Launches
'Across The Universe'
00:00 Hrs Tuesday 5 February 2008 GMT/Universal Time (Europe)
19:00 Hrs Monday 4 February 2008 Eastern Standard Time (USA)
(Holland and Spain Use Central European Time = GMT/Universal Time plus 1hr)
"NASA said Friday it will beam The Beatles' tune 'Across the Universe' to the North Star next week.... The broadcast will start at 0000 GMT Tuesday and will travel toward the Little Dipper constellation's brightest star at the speed of light, or 307,000 kilometers (186,000 miles) per second, NASA said in a statement. The North Star is 431 light years from Earth, meaning that 'Across the Universe' will take as many years to reach it..... For the February 4 celebration, NASA has invited people around the world to play 'Across the Universe' on their audio systems at the same time NASA beams its version into outer space."
NASA beams Beatles tune 'Across the Universe'
Agence France Presse, 2 February 2008
".... this is the first time any music has been transmitted deep into the cosmos. Nasa will encrypt the song and beam it into space from its Madrid transmitter on Monday at the start of a 2.5 quadrillion-mile trip (that's 23 zeros for anyone without a large capacity calculator) to Polaris, where it will finally arrive in the year 2439.... Nasa begins its own broadcast, 7pm in the US, midnight in the UK and 1am Tuesday in Spain."
Beatles to be beamed across the universe
Guardian, 2 February 2008
"An intergalactic celebration of The Beatles is launched on Monday with the beaming of their peace anthem 'Across the Universe' into outer space. The man behind the idea, which marks the 40th anniversary of the recording of the song in 1968, is an avid Beatles fan who has persuaded U.S. space agency NASA to kick off the party and now hopes to convert alien life forms to The Beatles. 'At the moment we are sending up Morse code as a way of contacting aliens,' Martin Lewis told BBC radio. 'Maybe we should send them something a little more cheery.' If all goes according to plan, NASA will transmit the Beatles tune via its deep space network at Midnight British time."
NASA beams Beatles' 'Across the Universe' to aliens
Reuters, 4 February 2008
"Yesterday was the 40th anniversary of the recording of the Beatles song Across the Universe. To mark the event last night at midnight GMT, NASA beamed the song written by John Lennon into space toward Polaris, the North Star. It may be true that in space, nobody can hear you scream. But now they can hear John Lennon call out 'Jai Guru Deva Ohm' at 180,000 miles per-second."
NASA and Blu-ray owners celebrate Across the Universe Day
Gizmorepublic, 5 February 2008
"It is widely known that the Beatle's music is universal in its appeal. However, the legendary rock band's song reached where no song has gone before, 'Across the Universe'. Beatles have always been universally loved, but they are now becoming universal in every sense of the word. The band's hit single 'Across the Universe' was literally beamed across the Universe by NASA on February 4, 2008, to mark the 40th anniversary of the recording of the song, as well as the 50th anniversary of both NASA and it's first satellite -- Explorer I. At precisely 7 p.m., E.S.T. the song was beamed by the agency's Deep Space Network of antennas. Thrilled about the ocassion, Sir Paul McCartney -- former Beatle member -- said, 'Send my love to the aliens. All the best.' Across the Universe, was principally written by John Lennon. His widow, Yoko Ono said that the song's transmission is a significant event and is the beginning of the new age in which one would communicate with billions of planets across the universe."
Beaming 'Across the Universe'
Times Now TV (India), 6 February 2008
To Be Known As 'Across The Universe Day'
"At 6 p.m. CST on my birthday, NASA successfully transmitted the Beatles song 'Across the Universe' into space, marking the first time in history for a radio song to be transmitted into deep space....Okay, this is where I get really excited. From now on, Feb. 4 will be known as 'Across the Universe Day.' I may be bringing back a defunct term when I say that's 'far out,' but I really don't care. This is something that's as timeless as the Beatles' music itself."
NASA's birthday present to me
The Clanton Advertiser, Alabama, February 2008
"Feb. 4 has been declared 'Across The Universe Day' by Beatles fans to commemorate the anniversaries. As part of the celebration, the public around the world has been invited to participate in the event by simultaneously playing the song at the same time it is transmitted by NASA. Many of the senior NASA scientists and engineers involved in the effort are among the group's biggest fans. 'I've been a Beatles fan for 45 years – as long as the Deep Space Network has been around,' said Dr. Barry Geldzahler, the network's program executive at NASA Headquarters, Washington. 'What a joy, especially considering that 'Across the Universe' is my personal favorite Beatles song.'"
NASA Beams Beatles' 'Across the Universe' Into Space
NASA news release, 31 January 2008
"'Across the Universe' is a song by The Beatles that first appeared on a charity release in December 1969, and later, in modified form, on their final album, Let It Be. The song features John Lennon singing lead, who was also the primary composer.... The flavor of the song was heavily influenced by Lennon's and The Beatles' short-lived interest in Transcendental Meditation in late 1967–early 1968, when the song was composed. Based on this he added the mantra Jai guru deva om to the piece, which became the link to the chorus.... On their return from India the group set about recording the many songs they had written there, and 'Across the Universe' remained on the shelf.... During the February 1968 recording sessions, Spike Milligan dropped into the studio and on hearing the song suggested the track would be ideal for release on a charity album he was organising for the World Wildlife Fund. At some point in 1968 The Beatles agreed to this proposal, and the track was mixed into stereo for the first time by George Martin. Though never satisfied with the recording, Lennon was still attached to the song, and played it during the Get Back/Let It Be album sessions of January 1969; footage of John playing the song appeared in the Let It Be movie.....On February 4, 2008, at 7:00 p.m. EST, NASA transmitted 'Across The Universe' in the direction of the star Polaris, 431 light years from Earth. The transmission was made using a 70m antenna in the DSN's Madrid Deep Space Communication Complex, located outside of Madrid, Spain. It was done with an 'X band' transmitter, radiating into the antenna at 18 KW. This was done to celebrate the 40th anniversary of the song, the 45th anniversary of the Deep Space Network (DSN), and the 50th anniversary of NASA. The date has become known as 'Across the Universe Day'. The idea was hatched by Beatles historian Martin Lewis, who encouraged all Beatles fans to play the track as it was beamed to the distant star. The event marks the first time a radio song has been transmitted into deep space, and was approved by Paul McCartney, Yoko Ono, and Apple. The timing of the song's transmission coincided with the death of the Beatle's transcendental meditation guru and the fortieth anniversary of its initial recording sessions."
Across The Universe
Wikipedia Entry, 9 February 2008
---
'Let It Be'
The Beatles In Rishikesh
"Maharishi Mahesh Yogi, the Indian mystic who taught meditation to the West, inspired the anti-materialism of the late sixties and the music of the Beatles, gaining a hold over the era's most influential stars. The Beatles -- John Lennon, Paul McCartney, George Harrison and Ringo Starr -- recorded 'The White Album' immediately after their much-publicized trip to the guru's Indian headquarters in 1968 and many of the songs on the album refer to their experiences there. George Harrison led his fellow Beatles to the Maharishi and transcendental meditation after becoming interested in classical Indian music and learning to play the sitar. Harrison was the most permanently influenced by the Maharishi, and his music reflected that for the rest of his life -- his biggest smash 'My Sweet Lord' from 1970 encapsulates the world view that he adopted under the guru's guidance. Huddersfield University music lecturer Rupert Till said Lennon also owed his utopian ideals to the Maharishi.'Lennon said originally 'I want to play in a rock and roll band' and he wrote songs about girls and cars. Being in India changed his and everybody else's direction.' Lennon's 'Imagine,' a utopian and anti-war anthem, was voted Britain's favorite song of all time."
Maharishi taught Beatles to give peace a chance
Reuters, 6 February 2008
"And when the night is cloudy,
There is still a light that shines on me,
Shine on until tomorrow, let it be.
I wake up to the sound of music
Mother Mary comes to me
Speaking words of wisdom, let it be.
Let it be, let it be, let it be, yeah let it be.
There will be an answer, let it be.
Let it be, let it be, let it be, yeah let it be.
There will be an answer, let it be.
Let it be, let it be, let it be, yeah let it be.
Whisper words of wisdom, let it be."
Let It Be
The Beatles, Released 1970
'Obscured By Clouds'
".... [There was a] sarcastic song about Maharishi Mahesh Yogi, who died on Tuesday, that John Lennon wrote in 1968, not long after the Beatles abruptly left the maharishi's ashram in Rishikesh, India, and declared themselves no longer his spiritual disciples. It wasn't released that way. In the end the other Beatles, particularly George Harrison, argued that whatever disagreements they had with the maharishi, his work demanded respect... Whatever shortcomings the Beatles' interaction with the maharishi may have had, the experience — which lasted only eight months, from August 1967 to April 1968 — seems to have opened a floodgate of creativity and got them out of what threatened to be a creative rut..... After Rishikesh the group found itself with more new songs than it knew what to do with..... In the years since Lennon's death, in 1980, Harrison and Mr. McCartney reconsidered the accusations against the Maharishi. Mr. McCartney has noted that the rumors of sexual impropriety were raised by Alexis Mardas, a supposed inventor and charlatan who had become a Beatles insider. 'Magic Alex,' as he was known, had agendas of his own, and may have fabricated (or at least exaggerated) the story. (Mr. Mardas has never commented on the incident.) During the 1990s both Harrison and Mr. McCartney were suitably convinced of the maharishi's innocence that they reconciled with him and offered apologies..... What is often overlooked, in recountings of this sorry tale, is the influence the maharishi — or at least the experience of going to Rishikesh to meditate for several weeks — had on the group. For one thing, he weaned them from LSD.....whatever other powers transcendental meditation had, under its influence they wrote like demons. The main body of evidence is the White Album, a two-disc collection of 30 songs, more than twice the number on any previous Beatles album. And that doesn't count two songs — George Harrison's 'Not Guilty' (which bears traces of bruised feelings over the maharishi incident) and 'What's the New Mary Jane' — that were recorded during the White Album sessions but left unreleased until 'Anthology 3,' in 1996. But that wasn't all. While in India they recorded an acoustic version of a song called 'Spiritual Regeneration,' a kind of theme song for the maharishi's program. And in May 1968, a week before the White Album sessions began, the Beatles gathered at Harrison's house in Esher, England, to run through their Rishikesh songs and decide which to record formally. A tape of 27 songs from that session has made the collectors' rounds, and there may be more on the master tape, which the Harrison family owns..... Harrison said in an interview near the end of his life that the Esher tape would make a great 'Beatles Unplugged' album. Apple should consider that. Meanwhile you have to wonder whether the Beatles' future might have played out differently if Magic Alex hadn't been in Rishikesh to spread rumors about the Maharishi. Instead of unraveling, as they did during the White Album sessions and throughout 1969, maybe meditation would have made them so prolific and contented that they'd have continued together, releasing a double album every six months or so. Well, probably not. But the maharishi, in 1968, was good for what ailed them."
Meditation on the Man Who Saved the Beatles
New York Times, 7 February 2008
First Wife Cynthia's Account Of What Pulled John Lennon Out Of Rishikesh
'The Beatles, The Maharishi And Me'
Sunday Times, 10 February 2008
"I was in London last week when I heard the Maharishi had died. I was surprised at how shocked I felt. He was part of my life for just a few short months in the late 1960s, but his influence on me has lasted. It's bizarre: I was never a follower, yet I have a beautiful photograph of the Maharishi holding a rose that I have kept with me ever since. It was Patti Boyd who introduced us to the Maharishi. George Harrison and Patti had become interested in Indian spiritual beliefs and went to a lecture in London, held by the spiritual regeneration movement. Later that year – 1967 – its leader, the Maharishi, came over from India to hold a conference in Bangor, north Wales. John went to hear him speak in London beforehand, with George, Patti, Paul McCartney, Jane Asher and Ringo Starr. 'It's fantastic stuff, Cyn, the meditation's so simple and it's life-chang-ing,' John told me. Like the others he had been bowled over by the Maharishi's charisma and promises of nirvana. So off we went to the Bangor conference. George, Patti, her sister Jenny and Paul were all going. Ringo decided at the last minute that he would come too, and so did Mick Jagger and Marianne Faithfull. The Beatles had overdosed on everything that fame could bring. The Maharishi was antidrugs and had explained that through meditation you could reach a natural high as powerful as any drugs could induce. John loved this idea and was already talking about enlightenment, cosmic awareness and doing without drugs. So I was all for the Maharishi's message: perhaps this was the change of direction John had been looking for. We were staying in dormitories at a large training college, along with a couple of hundred other followers. Our room was basic, with bunk beds and simple chests of drawers. Mick and Marianne sauntered in looking bewildered. 'Hey John, what's hap-pening? Where do we go from here?'. 'Back to school,' John laughed. The introductory seminar was an incongruous mix of the Maharishi's regular devotees joined by the psyche-delically clad pop star elite, all sitting crosslegged on the bare wooden floor. That afternoon the Beatles held a press conference renouncing the use of drugs, in keeping with the Maharishi's teachings. Only a month earlier they, along with other pop stars, had taken a full-page ad in The Times stating that the law on mari-juana was unworkable and immoral. Now all that was turned on its head. The press were wildly excited. But the story had barely hit the news-stands when it was overtaken. As we were heading back to our room, a reporter told us that Brian Epstein, who had steered the Beatles for the past six years, had been found dead..... The Maharishi's words helped us all to feel a little less bleak and as the weeks passed after we returned to London, John and I were brought closer by grief. John and George were also being drawn towards the Maharishi. It was as though, with Brian gone, the four needed someone new to give them direction and the Maharishi was in the right place at the right time. John and George agreed to go to the ashram in Rishikesh, at the foot of the Himalayas in India, to study meditation. Patti and I would go too. Paul, Jane, Ringo and his wife Maureen were less convinced about the joys of meditation but decided to join us. The trip was planned for February 1968..... A couple of weeks before we were due to leave [Rishkesh], Magic Alex accused the Maharishi of behaving improperly with an American girl who was a fellow student. Without allowing the Maharishi an opportunity to defend himself, John and George chose to believe Alex and decided we must all leave. I was upset. I was surprised that John and George had both chosen to believe Alex. It was only when John and I talked later that he told me he had begun to feel disenchanted with the Maharishi's behaviour. He felt that, for a spiritual man, the Maharishi had too much interest in public recognition, celebrities and money. I disagreed. But by dawn the next morning Alex had organised taxis from the nearby village and we left on the journey back to Delhi. After eight weeks the dream was over. I hated leaving on a note of discord and mistrust. But John was running away and I had little choice but to run with him. My last glimpse of the Maharishi was of him sitting quietly, as if he had been betrayed. He was baffled that we were packing up and that hurt me. The journey home was long and grim. I was close to tears and John was paranoid, afraid that the Maharishi would take his revenge on us in some way. Alex had discovered that if we hurried we could make the night flight to London. I hated the rush, which seemed unnecessary, but with the others setting the pace we hit the road and just made the flight.. .In the first week [in Rishkesh] we [had] settled into a routine, meditating for several hours a day and going to lectures, then spending the rest of the time on our own pursuits. John had his guitar with him. I drew and wrote poetry. The Maharishi had a laugh like a tinkling bell. He had an aura. I was as cynical as anyone to begin with, but I suppose I'm a perpetual student. I felt he was someone I could learn from. He'd call us for two chats a day to talk about the spiritual life. I didn't follow the whole thing, just took what was necessary for me. I still meditate occasionally. I have my mantra, a personal word that we were all given, which was to be kept secret and to be repeated over and over. It works: eventually your brain does go to a different level. It empties your mind and gives you space to think.... [but] I was not having the second honeymoon I had hoped for. John was increasingly cold and aloof. He spoke to me very little and after a week or two he announced that he wanted to move into a separate room to give himself more space. What I didn't know was that each morning he rushed down to the post office to see if he had a letter from Yoko. She was writing to him almost daily. When I learnt this later I felt very hurt. There was I, trying to give John the space and understanding that he asked for, with no idea that Yoko was drawing him away from me and further into her orbit.... Given how often and uncannily we repeat the patterns of our parents, I should, perhaps, have been more prepared for John to leave his own marriage and five-year-old son. But I was too young, too inexperienced and too determinedly optimistic to take it seriously. I had thought our magical interlude with the Maharishi would be the making of our marriage – but in reality it just presaged the end."
Cynthia Lennon - The Beatles, the Maharishi and me
Sunday Times, 10 February 2008
"The Maharishi insisted he had done nothing wrong and years later Paul McCartney agreed with him. Deepak Chopra, a disciple of the Maharishi's and a friend of George Harrison's, has disputed the Farrow story, saying instead the Maharishi had become unhappy with the Beatles because they were using drugs."
Maharishi Mahesh Yogi, who taught Beatles meditation, dies
Associated Press, 6 February 2008
"Based on unfounded rumors that the Maharishi had made advances on women in the entourage, John Lennon broke with the guru.... Beatles Paul McCartney, Ringo Starr and Harrison continued their association with the guru, said Bob Roth, TM director of communications in the U.S....'Paul recently visited the Maharishi in Holland, and George left a large sum of money in his will for scholarships for the Maharishi's university,' Roth said in an e-mailed statement in November 2007. 'Only John Lennon had a misunderstanding, which was later corrected and he continued to meditate.'''
Maharishi Mahesh Yogi, Beatles' Spiritual Guru, Dies
Bloomberg, 6 February 2008

"I've got no regrets at all [about India], cause it was a groove and I had some great experiences, meditating eight hours a day – some amazing things, some amazing trips – it was great. And I still meditate off and on. George is doing it regularly. And I believe implicitly in the whole bit. It's just that it's difficult to continue it. I lost the rosy glasses. And I'm like that, I'm very idealistic. So I can't really manage my exercises when I've lost that. I mean I don't want to be a boxer so much. It's just that a few things happened, or didn't happen, I don't know, but something happened. It was sort of like a [click] and we just left and I don't know what went on, it's too near – I don't really know what happened."
John Lennon: The Rolling Stone Interview
Rolling Stone, 23 November 1968

"In January of 1968, a then-20-year-old Prudence Farrow finally fulfilled a dream of hers that had been in the making for two years: to study meditation under Maharishi Mahesh Yogi in Rishikesh, India. Accompanied by her sister, actress Mia, Farrow was later joined at the Maharishi's retreat by none other than the members of the Beatles and their significant others. The Fab Four's stay in India has been well-documented — aside from seeking spiritual enlightenment through the Maharishi, they wrote songs that later ended up on their self-titled two-record set, better known as the White Album, released later that year. But Farrow didn't get caught up in the buzz surrounding the Beatles' presence at the retreat. Rather, she was more preoccupied with meditating for long hours in her room. Her single-minded devotion to meditation inspired John Lennon to compose "Dear Prudence" (number 63 on Rolling Stone's 100 Greatest Beatles Songs), which later appeared on the White Album..... The daughter of director-screenwriter John Farrow and actress Maureen O'Sullivan, Prudence Farrow led a tumultuous life during her teen years; her desire to seek spiritual meaning eventually led her to meditation and the Maharishi. Now married with children and a teacher of transcendental meditation in Florida, Prudence Farrow Bruns recently published her memoir, Dear Prudence: The Story Behind the Song, which covers her Hollywood childhood through the visit to India. She talked to Rolling Stone about her memories of the Beatles at the retreat, the first time she heard 'Dear Prudence' and what the song has meant to her over the past half-century. ... When I met him [Maharishi], I did not expect my reaction because it had been almost two years after wanting to study with him. When I felt that tremendous peace and silence — which I had felt in my own experience when I meditated, but not to that degree — it was phenomenal. I just fell on the ground and wept... I heard John [Lenon] practicing and tinkering with different notes and melodies on his guitar every afternoon for a couple of hours or so. I think it was just John and George (and not Paul) that came into my room one evening and played 'Ob-La-Di, Ob-La-Da' for me.... all the other course participants were in puris (cottages) that were very quiet and conducive for meditation. Our puri was considered the 'celebrity block,' which meant that not only the Beatles but all other celebrities and celebrity-related people would stay in this block. In the evenings, John and George (and Paul while he was there) would jam with others in the patio outside our front doors. I was sad that they left because it was very, very sudden. They had been doing eight hours a day of meditation for two months. It was sad and disturbing to see. I can't speak on what went on — I sort of know, but I don't want to speculate on things that I don't really know. I was there when John was saying to Maharishi that he had to leave."
The Real 'Dear Prudence' on Meeting Beatles in India
Rolling Stone, 4 September 2015
Last Performances
'Let It Be'

"Jan. 30, 1969: The Beatles have their last performance as a group on the roof of the Apple building during the filming of 'Let It Be'."
Imagine: The Fab Four live - 'Rain: The Beatles Experience' making three-day stop in Boston
Eagle-Tribune, 27 January 2008
"On January 12 this year, his 91st birthday, he [Maharishi Mahesh Yogi] announced that his work in the world was over and he was going into silence. He didn't speak to a single soul after that day. And today, he has passed so elegantly. Maharishi began the spiritual renaissance. He was one of the most significant figures of the century. Personally, I owe everything to him. Everything I have learnt, I have learnt from him. He has influenced some of the most important people of this century. The Maharishi had grandiose ideas — sometimes even impractical — but he was a great man. I remember taking George Harrison to meet him in 1993. George had gone to apologize for the bad behaviour of the Beatles back in 1969. Back then, the Beatles, especially John Lennon, had insinuated that the Maharishi was having an affair with Mia Farrow. When George apologised, the Maharishi said there was nothing to be sorry about. He said the Beatles were angels on Earth with their music and he could never be angry with them."
Deepak Chopra
Times of India, 7 February 2008
"Sir Paul McCartney and Ringo Starr paid tribute to the late Maharishi Mahesh Yogi, the Indian guru who famously set the Beatles on the path to spiritual enlightenment. The Maharishi died at his home in the Netherlands on Tuesday. He was thought to be 91. Sir Paul said: 'I was asked for my thoughts on the passing of Maharishi Mahesh Yogi and I can only say that whilst I am deeply saddened by his passing, my memories of him will only be joyful ones.' He added: 'He was a great man who worked tirelessly for the people of the world and the cause of unity. I will never forget the dedication that he wrote inside a book he once gave me, which read 'radiate, bliss, consciousness', and that to me says it all. I will miss him but will always think of him with a smile.' Starr also released a statement paying his respects. He said: 'One of the wise men I met in my life was the Maharishi. I always was impressed by his joy and I truly believe he knows where he is going.' The Maharishi became famous in the 1960s through his relationship with the Beatles. The group visited his ashram in India in 1968, where they studied his transcendental meditation techniques."
Ex-Beatles pay tribute to Maharishi
Metro, 8 February 2008
A transcript from the 'The Beatles Anthology,' about their time with Maharishi Mahesh Yogi - Click Here
"He (Ringo Star) also relaxes by using a skill he learned during his time as a Beatle: Transcendental Meditation, the mind-calming technique they were taught on their celebrated trip to India in 1968. Back then, Ringo seemed the least keen, returning to the UK after a fortnight, while his colleagues' stay stretched into months; these days, however, he sounds newly enthusiastic. 'Even if I've not meditated for months, I can do it,' he says. 'It's something I do a lot more now than I have been over the last 15 years. 'For me, meditation is a break from thinking. The benefits to me are quietening my mind and soul down. At the end of a day, I can end up just totally wacky, because I've made mountains out of molehills. With meditation, I can keep them as molehills."
Interview with Ringo Star
SAGA Magazine, November 2004
---
'My Friend The Maharishi'
Who Was Maharishi Mahesh Yogi?
'My Friend The Maharishi'
Who Was Maharishi Mahesh Yogi?
Portsmouth News, 8 February 2008 - Click Here
'All Things Must Pass'
"Sunrise doesn't last all morning
A cloudburst doesn't last all day.......
All things must pass
All things must pass away"
All Things Must Pass
George Harrison, Released 1970
"George Harrison was always regarded as the quiet one of The Beatles, but his talent spoke for itself. After the Beatles split, he was the first to make his mark, by scoring a number one hit single with My Sweet Lord in 1970.... In 1992 he played an Albert Hall show in support of the UK's mystically-inclined Natural Law Party..."
George Harrison: The quiet Beatle
BBC Online, 15 November 2008

"On April 6, 1992, George Harrison surprised patient fans with his first solo show in the U.K. since leaving the Beatles. It would turn out to be his final full-length show.... Clearly without a real itch to return to the stage, Harrison needed a push to get him back in front of a live audience —a poli and he got in the form of the Natural Law Party, tical group founded on the principles of transcendental meditation whose affiliation with the Maharishi Mahesh Yogi attracted Harrison's support. With the British general election looming on April 9, he sought to get the word out about the young party the best way he knew how. "I want a total change and not just a choice between left and right," Harrison said in the press release announcing the show (provided by Ultimate Classic Rock reader Elliot S. Berke). "The system we have now is obsolete and not fulfilling the needs of the people. Times have changed and we need a new approach. … the Natural Law Party is turning this election into a wonderful, national celebration and I am with them all the way.".... "When I stepped on the Royal Albert Hall, it was unbelievable. I couldn't control — the audience were just so happy. It was the most incredible buzz." That buzz continued through a career-spanning set that — while it didn't really move the needle in terms of election-deciding votes for the Natural Law Party — proved Harrison hadn't lost a step, and still enjoyed a healthy demand for his music."
25 Years Ago: George Harrison Plays His Final Full Concert
Ultimate Classic Rock, 7 April 2017

"The guru to the Beatles who introduced transcendental meditation to the West, Maharishi Mahesh Yogi, died at his Dutch home overnight, aides said on Wednesday. He was said to be 91. The reclusive Indian mystic shot to international prominence when the Beatles -- John Lennon, Paul McCartney, George Harrison and Ringo Starr -- visited him in the foothills of the Himalayas in 1968 to learn his transcendental meditation techniques. Film footage of the four Beatles sitting cross-legged and dressed in white robes with garlands of flowers was beamed round the world. Beach Boy Mike Love, Donovan and U.S. actress Mia Farrow joined the sessions. 'His passing is profoundly sad. But I, for one, am among the millions who are grateful for what he shared with us,' said Love. 'We will miss you, but your great light will shine on.' After teaching other 1960s and 70s figures, the Maharishi with the flowing hair and white beard gained a worldwide following and more than 5 million people studied his methods. He helped inspire the anti-materialism of the late 60s and the Beatles recorded 'The White Album' after their time with him in India, referring to their experiences in its songs. .... [he] periodically emerged to appeal for funds to promote world peace.... In 2002, he said he could combat world terrorism and war if he could raise $1 billion (500 million pounds) to train 40,000 expert meditators. The Maharishi set up universities and schools all over the world and his Natural Law Party.... Transcendental meditation, known as TM by its followers, involves reciting a mantra that practitioners say helps the mind stay calm even under pressure. It gradually gained medical respect over the decades as the Maharishi challenged Western scientists to investigate its health benefits. 'Maharishi brought the pure transcendental meditation back to the world, reuniting us with our own true self. As a poet I can find no words to describe how grateful I am to Maharishi for his gift,' said singer Donovan in a statement. Last month the Maharishi stepped down as head of his organisation and said he would be 'retiring into silence'. "
Beatles' Indian guru Maharishi Yogi dies
Reuters, 6 February 2008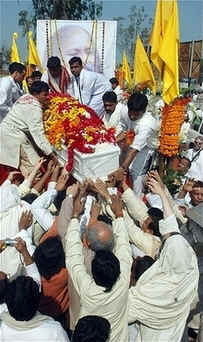 Maharishi Mahesh Yogi's body arrives in Allahabad India 9 February after being flown from Holland, in readiness for last rights scheduled for Monday 11 February 10:00 am local time at the confluence of the Ganga, Yamuna, and the mythical Saraswati rivers.
"The body of Maharishi Mahesh Yogi, kept in a white coffin and surrounded by pundits chanting Vedic mantras, was on Saturday brought to the city that was once his home for last rites. The cremation would take place on Monday. The truck carrying the coffin entered the city followed by a carcade of over 50 vehicles from Varanasi.... Hollywood celebrity David Lynch and stress management guru Deepak Chopra are also scheduled to arrive in the city."
Mahesh Yogi's mortal remains reach Allahabad
Times of India, 10 February 2008

"Even though I last sat with Maharishi more than 10 years ago, he left an indelible impression, as he did on everyone. His extraordinary qualities are known to the world. Without him, it's fair to say, the West would not have learned to meditate. During the Cold War era a reporter once challenged him by saying, 'If anything is possible, as you claim, can you go to the Soviet Union tomorrow with your message?' Without hesitation, Maharishi calmly replied, 'I could if I wanted to.' Eventually he did want to, and meditation arrived in Moscow several years before the Berlin Wall fell. In his belief that world peace depended entirely on rising consciousness, Maharishi was unshakable.... He was venerated by the venerable and considered holy by the holy. His capacity to explain Vedanta was unrivaled, and if he accomplished nothing else in his long life, his commentary on the Bhagavad-Gita insures his lasting name, because with acute analysis he cuts through to the heart of every verse.... Around 1990 I was commissioned to write a book about him; it turned out to be the only assignment I could never complete. Even after spending hundreds of days in his presence, one could not capture him, either on paper or in one's mind. The Gita is right to say that there are no visible signs of enlightenment, but I would go further. The enlightened person ceases to be a person and attains a connection to pure consciousness that erases all boundaries. My deepest gratitude goes to Maharishi Mahesh Yogi for showing me that this state of unity exists outside folk tales, temples, organized religion, and scripture itself. To live and breathe in unity consciousness is unfathomable, but in at least one case, I am sure it is real."
Deepak Chopra
Huffington Post, 6 February 2008
In Honour Of Maharishi Mahesh Yogi
12.1.1917 - 5.2.2008
Tribute To The Life Of Maharishi Mahesh Yogi In Pictures
YouTube - Click Here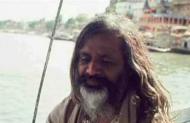 "His 1964 book 'Science of Being and Art of Living was translated into 15 languages and sold over a million copies. 'Transcendental meditation is something that can be defined as a means to do what one wants to do in a better way, a right way, for maximum results,' the Maharishi told CNN in a rare interview in 2002... Meditating twice a day in half hour sessions would help people achieve inner peace, he taught. According to TM followers mass meditation sessions can generate positive powers that can end negative processes like war and violence. On the TM website, the movement claims that a mass meditation session of 7,000 followers coincided with the fall of the Berlin wall and the end of the Cold War. 'But when the group cannot be maintained financially, new tensions arise in the world,' it added."
Beatles guru Maharishi Mahesh Yogi dies
Agence France Presse, 6 February 2008
"1988: 7000 students from the Vedic families of India are assembled at Maharishi Nagar near New Delhi to practice Yogic Flying and perform Vedic Yagyas for peace. During this time, the Berlin Wall falls and the Cold War ends. But when the group cannot be maintained financially, new tensions arise in the world"
Maharishi's Initiatives for World Peace
The Transcendental Meditation Program Web Site (USA)
"After more than 50 years of leading his Transcendental Meditation movement, the one-time Indian guru to the Beatles has retreated into near-silence and turned over daily management of his global network to aides. Maharishi Mahesh Yogi is thought to be 91 and is losing the strength to keep up with his strenuous workload, which often involved hours of conversations with Transcendental Meditation outposts around the world. 'He had been involved very dynamically administratively in his worldwide movement for over 50 years, so it's quite a significant change to see him dive back purely into knowledge and let other people take care of the administration,' American physicist John Hagelin, an adviser to the Maharishi, said in a telephone interview from the movement's Dutch headquarters. 'He was working ... 20 hours a day for years,' Hagelin said. At a meeting in the Netherlands early this month, the Maharishi told senior aides of his plan to absorb himself only in the ancient Indian texts that underpin his movement."
Maharishi Retreats Into Meditation
Associated Press, 29 January 2008
"Maharishi Mahesh Yogi, a guru to the Beatles who introduced the West to transcendental meditation, died Tuesday at his home in the Dutch town of Vlodrop, a spokesman said. He was thought to be 91 years old. 'He died peacefully at about 7 p.m.,' said Bob Roth, a spokesman for the Transcendental Meditation movement that the Maharishi founded. He said his death appeared to be due to 'natural causes, his age.' .... After 50 years of teaching, Maharishi turned to larger themes, with grand designs to harness the power of group meditation to create world peace and to mobilize his devotees to banish poverty from the earth. Maharishi's roster of famous meditators ran from The Rolling Stones to Clint Eastwood and new age preacher Deepak Chopra.....[Donations and] TM financed the construction of Peace Palaces, or meditation centers, in dozens of cities around the world. It paid for hundreds of new schools in India. In 1971, Maharishi founded a university in Fairfield, Iowa, that taught meditation alongside the arts and sciences to 700 students and served organic vegetarian food in its cafeterias. Supporters pointed to hundreds of scientific studies showing that meditation reduces stress, lowers blood pressure, improves concentration and raises results for students and businessmen.... In 1990 he moved onto the wooded grounds of a historic Franciscan monastery in the southern Dutch village of Vlodrop, about 125 miles southeast of Amsterdam.... John Hagelin, a theoretical physicist who ran for the U.S. presidency three times on the Maharishi-backed Natural Law Party, said that from the Dutch location Maharishi had daylong access to followers in India, Europe and the Americas. 'He runs several shifts of us into the ground,' said Hagelin, Maharishi's closest aid, speaking in Vlodrop about his then-89-year-old mentor. 'He is a fountainhead of innovation and new ideas - far too many than you can ever follow up.''
Maharishi Mahesh Yogi Dies
Associated Press, 5 February 2008
"Spiritual leader Sri Sri Ravi Shankar has described Maharishi Mahesh Yogi as a 'great saint' whose contribution to the world would be remembered forever. 'Maharishi was a great saint. He was highly skilled in managing world affairs and at equally dispassionate at the same time,' Ravi Shankar said, recalling the time he spent with Maharishi in his early days. 'Maharshi laid the foundation for a new world based on the knowledge of Vedas and spirituality. There was none like him and none shall ever be again. He remains unparalleled,' Ravi Shankar added. Mahesh Yogi, the Indian guru most responsible for making meditation a household word and whom the Beatles once sought, died on Tuesday at his organisation's headquarters at Vlodrop in the Netherlands. He was 91."
Maharishi was a great saint: Ravi Shankar
MSN News, 6 February 2008
"The funeral of Maharishi Mahesh Yogi will be held in Allahabad Feb 11, a spokesman for his foundation said Thursday. The funeral will be held 10 a.m. at the confluence the Ganga, Yamuna and the mythical Saraswati rivers. 'We are expecting a very large number of people to turn up from all over the world and are busy preparing arrangements for them,' spokesman Charles Cunningham said. The Indian guru, who took yoga and transcendental meditation to the world outside India, died of natural causes Tuesday at his Dutch retreat of Vlodrop. He was thought to be 91. One of his main aides, Peter Warburton...... said Mahesh Yogi recalled his own guru Brahmananda Saraswati, the late Shankaracharya of Jyotirmath, better known as Guru Deva, on his deathbed. 'The Maharishi's last words were, 'It has been my pleasure, at the feet of Guru Deva, to take the light of Guru Deva and pass it on in my environment',' Warburton said."
Mahesh Yogi to be cremated in Allahabad Feb 11
IANS, 8 February 2008
"The body of Maharishi Mahesh Yogi, who popularised meditation across the world, will be flown in here from the Netherlands Saturday for his cremation. An entourage of over 500 of his disciples is slated to accompany the guru's body to attend his last rites in this city on the bank of the Ganga Monday. The Indian guru, who took yoga and transcendental meditation to the world outside India, died of natural causes Tuesday at his Dutch retreat of Vlodrop. He was thought to be 91. 'Since Allahabad airport does not have customs facility, the plane would first land at the international air terminal in Varanasi and then arrive here at about 9.30 a.m.,' a spokesman of the Maharishi Ved Vidyapeeth here told IANS. The Vidyapeeth was set up by the Maharishi as a part of his mission to promote Vedic teachings. Spread across a huge campus on the outer banks of the Ganga, the Vidyapeeth has over 2,500 students pursuing a 'gurukul' type of education. The boarding and lodging on the campus is absolutely free. The Maharishi had studied at the K.P. Intermediate College here and later completed his Masters in Physics from the Allahabad University. Vishwa Hindu Parishad (VHP) chief Ashok Singhal and retired High Court Justice Shambhu Nath Srivastava have urged President Pratibha Patil to accord state honours to the Maharishi. 'I have requested the president to accord a state funeral to Maharishi Mahesh Yogi and I am hopeful that she would concede this request,' Singhal told reporters. 'Thousands of sadhus from different parts of the country will be converging in Allahabad to participate in the Maharishi's funeral,' he said. Justice (retd) Srivatsava said: 'The Maharishi's body would be taken through the city streets in a procession and kept initially at the ashram of swami Vasudevanand in Alopi Bagh area on Saturday to enable people to pay their homage.' He added: 'The body will be shifted to the Vidyapeeth in the evening and would be thrown open to public again on Sunday.'"
Mahesh Yogi's Body To Reach Allahabad For Cremation
News Post India, 8 February 2008
"The dead body of Maharishi Mahesh Yogi, who passed away in Holland two days ago, was flow in to Varanasi today form where it is being taken to Allahabad for the last rites. The Vishwa Hindu Parishad has demanded that state honours be accorded to the Spiritual leader. The Maharishi's body would arrive in Allahabad today by a special flight from Amsterdam via Varanasi, Mayor Chaudhary Jitendranath Singh informed. Singh has also formed a citizens' committee, comprising religious leaders, jurists and other renowned figures to oversee the arrangements for the last rites. The body of the Maharishi will be taken in a grand procession to his ashram at Arail where it will be kept for 'darshan' until February 11 when his mortal remains will be consigned to flames, he said."
Maharishi Yogi's body brought to India
Sahara Samay (India), 9 February 2008
"Thousands of followers and admirers of the icon of transcendental meditation swarmed Sunday at the Maharishi Ved Vidyapeeth here to pay their homage to Maharishi Mahesh Yogi, who died at his spiritual headquarters in the Netherlands last week. Hundreds of his foreign devotees thronged in and around the institute on the sprawling 120-acre campus on the banks of the 'sangam' - the confluence of the Ganga, Yamuna and the now dried Saraswati rivers... The last rites of the sage would be performed on a specially erected platform on a mound at the far end of the institute overlooking the sangam at 11.00 a.m. Monday. Widely revered spiritualist Sri Sri Ravi Shankar is expected to join the cremation ceremony. Famous Hollywood filmmaker David Lynch also flew down all the way from Los Angeles to attend the funeral. Minister of state for food processing Subodh Kant Sahay will represent the central government. Throughout the day, people kept pouring in at the institute where the body of Maharishi was kept after being flown in by a chartered plane here Saturday."
Thousands throng to pay homage to Mahesh Yogi
IANS, 10 February 2008
---
His Last Full Interview With A Major TV Network
CNN, 12 May 2002
Maharishi Mahesh Yogi
Interviewed On Larry King Live
Click Here
Life After The Maharishi

"The two surviving Beatles have reunited on stage in New York to promote Transcendental Meditation among schoolchildren around the world. Sir Paul McCartney and Ringo Starr played With a Little Help from My Friends in their first concert together for almost seven years. The rare reunion came at the climax of a benefit concert at Radio City Music Hall for a charity set up by David Lynch, the film-maker, to bring Transcendental Meditation to one million schoolchildren.... Lynch, whose films include Blue Velvet and Twin Peaks, is spearheading an effort to bring Transcendental Meditation to schools to relieve stress. He has written of nurturing his own creativity with meditation, in his book Catching the Big Fish. The David Lynch Foundation for Consciousness-Based Education and World Peace says that it has already provided scholarships to more than 100,000 at-risk pupils, teachers and parents in 30 countries to learn the meditation technique. 'We have seen schools that were in bad trouble get the technique for the whole school and within a year there is a 180-degree turnaround. It's so beautiful,' Lynch said. McCartney and Starr, who have appeared together only a handful of times since the Beatles broke up in 1970, last played together at a 2002 tribute to George Harrison at the Albert Hall after the former Beatle's death from cancer at the age of 58.... The highlight came when McCartney introduced Starr as the imaginary singer from Sgt Pepper's Lonely Hearts Club Band. 'Ladies and gentlemen, Billy Shears,' McCartney said. After performing With a Little Help from My Friends Starr stayed on stage for an encore, playing drums on a song that had been written by McCartney while in India — And Remember to be . . . Cosmically Conscious — and also on I Saw Her Standing There. At a press conference before the performance the two recalled their 1968 trip to India to learn meditation from the late Maharishi Mahesh Yogi. 'Over 40 years ago, we ended up in Rishikesh. That is where we hung out with Maharishi. We had met him a few months before in Wales. Since then, sometimes a lot, sometimes a little, I have meditated. It's a gift he gave me,' Starr said. McCartney said: 'It's one of the few things anyone has ever given to me that means so much to me. For us, it came at a time when we were looking for something to stabilise us at the end of the crazy Sixties.'"
Paul McCartney and Ringo Starr promote Transcendental Meditation for pupils
London Times, 6 April 2009
"Ringo Starr and David Lynch recently got together to discuss the former Beatle's career, as the filmmaker readied the release of an album capturing songs from the tribute concert his foundation held in Starr's honor last year. ... 'When you reach any depth, it is unbelievable,' says Starr, who studied with Yogi along with the other Beatles and continues to practice transcendental meditation. 'You only know when you come out that you've actually gone somewhere else. ... Mahareshi had this great thing about how close we are together, all living things. And everything living will support you as long as you're doing something for good. And I love those principles. My dream is one day at noon on my birthday, when I go 'peace and love,' that the whole world will do it, and that will be a beautiful time.'"
See Ringo Starr, David Lynch Discuss Beatle's Career, Meditation
Rolling Stone, 4 December 2015

"The 'Chaurasi Kutia' ashram of Maharishi Mahesh Yogi at Rishikesh, where world famous band group 'Beatles' stayed in 1968 during their journey for spiritual quest, has been thrown open to tourists after renovation. Uttarakhand Forest Minister Dinesh Aggarwal formally reopened the ashram at a function today. Aggarwal said the ashram would attract 'Beatles' fans from all over the world. More facilities would be made available there in the coming days, he said. Efforts would be made to invite the two surviving members of the 'Beatles' group to the ashram, he added. 'Beatles' singers John Lennon, Paul McCartney, George Harrison and Ringo Starr had come to learn meditation here in 1968. Ringo Starr and Paul MacCartney are still alive. The Forest Department has renovated the ashram that had been in disuse for more than a decade after the expiry of its lease in 2000. A large number of foreigners had been showing interest in the ashram. The department would charge Rs 600 from every foreigner and Rs 150 from every Indian tourist visiting the ashram. It has been given a complete new look with proposal of using it for bird watching and nature walks."
'Let it be': Uttarakhand opens Mahesh Yogi's ashram for Beatles' followers
Tribune News Service, 8 December 2015

---
---